The Meteomedia Weather station
in the Ostfalen Technology Park
On June 29, 2002, Jörg Kachelmann inaugurated the weather station on the grounds of Salutas Pharma GmbH in the Ostfalen Technology Park.

Salutas Pharma GmbH has financed the weather station and set it up on its premises. Thus, in the Ostfalen Technology Park, there is another one of around 350 stations of the company MeteoMedia distributed throughout Germany.
12 - 14 Observation data for Barleben are continuously determined by the station.
The actual data can be accessed on the Internet as well as the 4-day forecast for Barleben.
---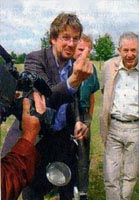 Jörg Kachelmann during the inauguration
(Foto K. Dalichow)
---